Increase Energy
::

Stamina

::

Burn Fat

::

Look Great

Burn It Up! / Bronze Organic 'Canthaxanthin Supreme' / SportLegs / Yohimbe Extract

PATENT TECHNOLOGY
Boost ENERGY, Build STRENGTH, Beat FATIGUE, BURN FAT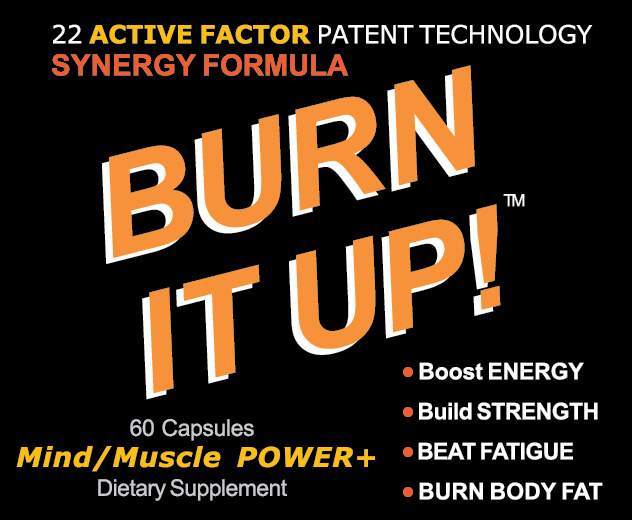 If you want to be FASTER, STRONGER and SMARTER with a SUPER FIT PHYSIQUE, then you need the Patent Technology Formula for 'Fueling the Human Performance Machine' working for you- BURN IT UP!™
BURN IT UP! is fast acting, long lasting and increasingly builds benefits for you over time. Try it before your next workout, bike/tri/marathon event - or speaking engagement - and enjoy an unmistakable Unfair Advantage. SEE and FEEL the NATURAL ENERGY, strength increase, fat burning boost and sharpened mental focus for yourself.
'Synergy Formula' BURN IT UP! works via a broad spectrum approach to potent, proven ingredients and a versatile dosing protocol. It's all about delivering to you, World Class, MEASURABLE BENEFITS.
22 Active Factor BURN IT UP! is exceptionally comprehensive and features only the legitimately best ergogens, SAFE, REVITALIZING SUPER FOODS and the most prized organic energizers on the planet.
Included is premium, Organic 10:1 Maca (an amazing, jitter-free stamina builder), authentic ATP, powerful 4:1 Yerba Mate Extract and the best sharp mind/muscle superfoods in extra high potency. And, that's just scratching the surface. All 22 Active Factors contribute a targeted, specific benefit + enhance the greater whole. It's POWERFUL SYNERGY in action - made to give YOU the winning edge.
KEY Mind/Muscle POWER+ BURN IT UP! BENEFITS :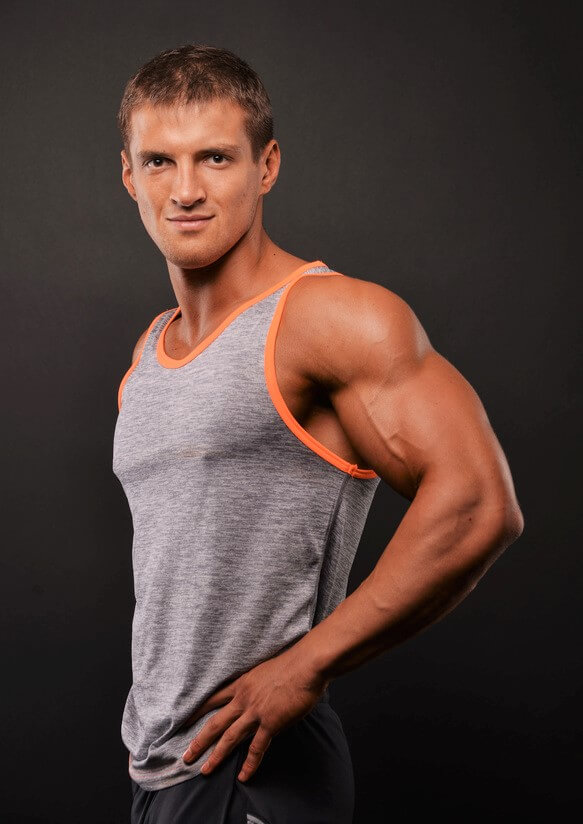 ●

Easy-to-use, Calorie-Free Capsules

●

SAFE, Scientifically Advanced Formula

●

Increase Energy, Metabolism & Stamina ON DEMAND

●

Best Thermogenic Supplement (burn body fat as fuel)

●

Long Lasting ENDURANCE and ENDORPHIN ENHANCEMENT

●

Superior Anti-Cramping and ELECTROLYTE BOOSTING Benefits

●

'Sharp Mind' Super Foods for Mental Focus, Creativity and Stress Reduction

●

Broad Spectrum, NATURAL ENERGY, VITALITY and VIRILITY BUILDING Formula

●

World's #1 Neurotoxin & Nightshade Free Supplement that's Highly Thermogenic
Insider insight reveals one of the 22 BURN IT UP! Active Factors is a prized Asian adaptogen that powers you to go the extra mile. Selectively harvested, it's aged and concentrated six to eight years to harness all of Mother Nature's power. This incredible ergogen is a rare find on American shores because it's the "Saffron" of organic performance enhancement. This REAL, 6+ Year RED KOREAN GINSENG Extract guarantees great results.
BURN IT UP! completely outclasses the high calorie, horrible nutrition of "jittery jolt then crash" energy drinks and ordinary fat loss pills and powders. Those products cause adrenal fatigue and dependency. Instead, naturally REVITALIZE YOURSELF with the professional, proven POWER of BURN IT UP!
SEE for yourself. FEEL the EMPOWERMENT of Patent Technology BURN IT UP!
"As a coach I get asked a lot of questions about supplements. Protein powder and fat burners/pre workout make up most of them. For years I have said that Mass Pro Whey is the best on the market. Until recently I didn't have a preworkout that I could say I was 100% behind. Not anymore. Burn it Up's new formula is on point. Amazing energy. The boost in focus and energy is quick and sustained, and NO CRASH afterwards. Another big win for you guys. I have already started suggesting it to clients that need to up their workouts, manage cravings, and get a solid healthy boost. Thanks again to John and the staff at bodybuildingsupplements.com for putting out the best products going."
-Zak Knight, Strength Coach/Powerlifter
"BURN IT UP! is the closest anyone is going to find to a legal energy supplement. The results are superb. I have never lifted so much for so many reps. It's going to be shared around the rugby team before we play Saturdays!"
-Paul Hart, England
"My secret weapon. Wife and I both use this for endurance bike rides. A+++++++" -jsjcat, Verified Buyer Burn It Up Review
Burn it Up rocks! It is the cleanest "high" I've gotten from any pre-workout supplement. It's a steady alertness, and the great thing is there is no crash at the end. It's like it just wakes up the senses without the hyperactivity of other formulas out there.

Growing up in a fitness family (father was a college athlete and current football coach), I was taught to be very picky with what I put into my body. Your company is the best, by far, I have come across. I try to tell as many people about you as I can (esp being military, my young airmen are always falling to the hype of other places and I firmly send them your way). Thank you for supplying us with quality, no fluff products!"
-DJ Thomas, Minot, ND, Minot AFB
"My strength and stamina started increasing immediately... no doubt this new ATP is working"
-Terry Baldwin, ISSA Certified Trainer, Pro Bodybuilder, World Record Holder
"I was out of Endurolytes before a group ride and a fellow cyclist gave me a couple of BURN IT UP! as replacements. It was the best ride of my life and I'll never switch back."
-Kate Sims, San Diego, CA
"We're very proud of BURN IT UP!... Compare it head-to-head against ANY sugary energy drink, endurance/electrolyte formula, brain booster or competing fat burn supplements. I stake my name and reputation on the research proven results and real world value."
-John Drake, BodyBuildingSupplements.com CEO/Research Director