KRE-ALKALYN BENEFITS
Patent Technology 'Creatine SUPREME'
Not All Creatine is Created Equal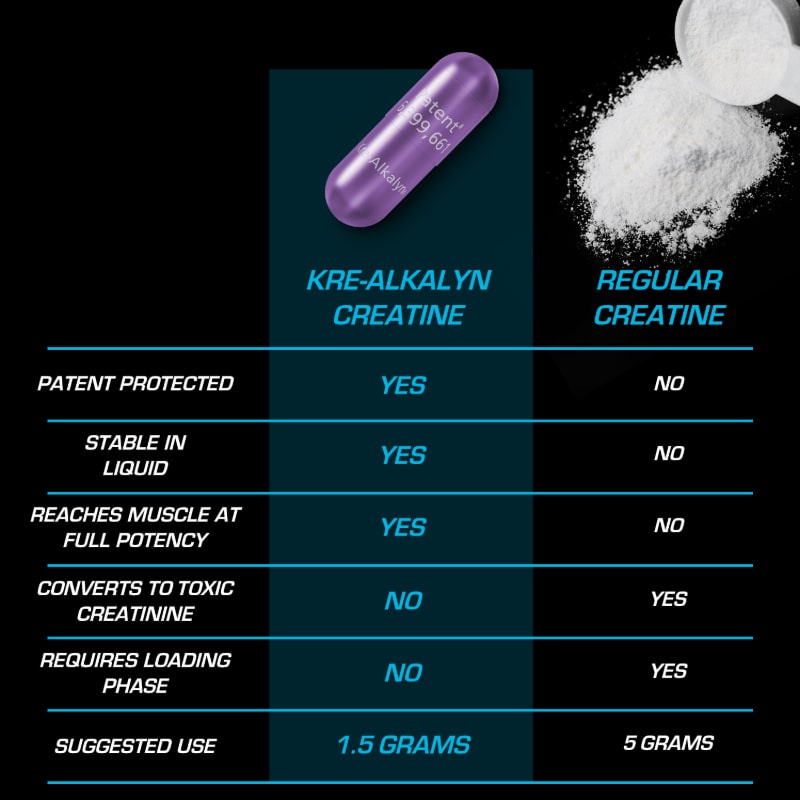 KRE-ALKALYN® is pH Correct Creatine.
Kre-Alkalyn is an exciting Patent Technology Creatine that takes creatine monohydrate - long the most popular muscle, fitness and sports supplement - to stunning, state-of-the-art performance levels.
Say goodbye to loading phase hassles and multiple daily dosages because muscle tissue absorbs 100% of Kre-Alkalyn Creatine.
Just how POWERFUL are the benefits?
To illustrate, a mere two capsules capsules of Kre-Alkalyn Buffered Creatine (1.5 grams total) surpasses what your body can absorb and utilize from a whopping 15 grams of regular creatine monohydrate - yes, 15 stomach bloating grams - and that includes any and ALL other creatine supplements out there, every single one, no matter the amount of hype or high price tag. It's smart creatine information to know...
The astounding difference is in the Patent Technology pH Correct Optimization, exclusive to Kre-Alkalyn Buffered Creatine which literally renders regular creatine supplements obsolete.
●

Get immediate benefits - Works from the very first serving, no loading needed

●

Easy-to-use capsules - Forget messy, gritty, foul tasting creatine powder

●

100% absorption - No bloating, stomach upset, dehydration or toxic conversion

●

Save money - Experience your best-ever results with only 2-3 capsules a day

●

This new-age "Metabolic Acid Buffer" clears lactic acid, so you perform at higher levels
Five years of intensive research and development went into bringing Kre-Alkalyn to you. First offered by MASS BodyBuilding on May 17th, 2001 - with Patent #6,399,661 awarded on June 4th, 2002 - we've never sold regular creatine supplements since. Remarkably, a full 4-7 weeks worth of Kre-Alkalyn Supreme is less than a dollar a day!
Be Smart. Be Strong. Secure your personal supply of Patented Kre-Alkalyn Supreme Creatine capsules today and start seeing your very own state-of-the-art results tomorrow.
• Kre-Alkalyn Creatine FACTS: In-depth creatine information and the remarkable science behind Kre-Alkalyn
"Unlike all the other creatine supplements I've tried, Kre-Alkalyn gives me the maximum amount of benefit in strength and endurance without any stomach upset or bloating. In about 9 years of dealing with MASS I haven't been steered wrong yet!"
-Gavin Chachere, New Orleans, LA
"I never could get into the swing of drinking the old creatine monohydrate drink powders. These capsules are the answer to that problem. Kre-Alkalyn is a superior creatine product."
-J.L., Online Forum Review